Italian Car Specialists - London since 1965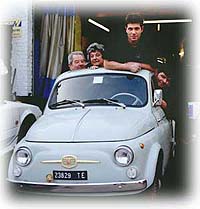 Remo a Motor Engineer, trained in his native Italy established R.Proietti Ltd in 1965, he started the business at 2 Blundell Street and became a Fiat Dealer soon after. The days when a Fiat 500 cost a few pence less than £500 and a Fiat 600 just under £600. These early years proved to be the foundation years for the company, gaining a healthy reputation for a quality and service. Remo then went alone as an independent Fiat, Alfa and Lancia Specialist and expanded the business when land became available adjacent to the workshop.
Fiat 500 & Fiat 600 Restorations
In the early 80s his sons Stef and Bruno Proietti followed in his footsteps with the same passion for Italian cars, they joined the business when Italy were World Champions and Fiat 500s were dwindling, they were immediately drawn to classic cars. With Remos' experience and their youthfulness they started restoring Fiat 500s for their own use and for friends, this attracted a lot of attention.
Fiat & Lancia Specialists
Then the classic car boom of the late 80s took off and R.Proietti Ltd were well placed to service the demand in the market. They worked on many Fiat 500s, Fiat 124 Spiders, Alfa Spiders, Lancia Fulvias to name the most popular.
At the same time Lancia launched the fabulous Delta Integrale and with that Stef and Bruno always with an eye to the future equipped the workshop and gained the expertise to look after and modify these wonderful cars. Not content with a busy business, most weekends were taking up racing , preparing race cars or giving race support.
This brief history moulds the business that R.Proietti Ltd has become:
Passion, patience and experience to restore Classic Cars
Skill, enthusiasm and energy to prepare race cars.

Established in 1965 is a family run business specialising in Italian cars, operating from the heart of the capital city for more than two generations. Quality is the key to our success as our work reflects on our reputation, combing good old fashioned principals and standards with the latest high tech equipment. We offer servicing for Fiat, Lancia and Alfa as well as some of the more exotic models such as Ferrari, Maserati and Lamborghini.